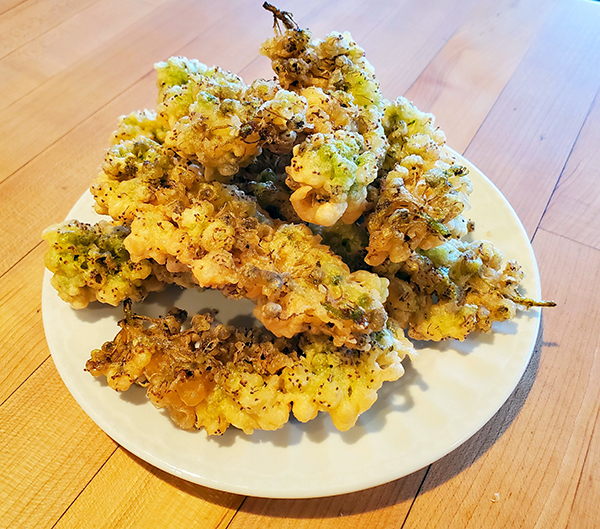 12 Apr

Bigleaf Maple Blossoms


Bigleaf Maple Blossoms
It's already a bit too late in the season to tap trees for making syrup (more on that in a future entry), but the bigleaf maple is still producing an edible bounty for the dinner plate. More obvious than the sap but lesser known to most of us, the blossoms of this maple are also edible.
Yesterday, I found a tree with branches low enough for me to collect them. I was excited by the volume within my reach, so it was only after harvesting enough to fill a grocery bag that I considered how I was going to cook them.
I love deep fat fried foods, so I rarely make them (they disappear way too quickly!) But my husband was leaving for a spring ski trip, and I figured a calorie-dense snack might be nice for his road trip. I decided to try my hand at maple blossom fritters.
What do they taste like?

  They were delicious! (Note the past tense.) He was lucky there were enough for his trip! We plowed through a dozen of them before I could even get a plateful for a photo. But to be honest, the subtle maple blossom flavor was lost beneath all that oily, salty frybread deliciousness. They are still worth making though as the lacy construction of the flower racemes is a perfect carrier for a light batter, resulting in an airy, crispy appetizer.
In an attempt to nutritionally balance my "meal," I also steamed a handful. Though they weren't as pretty, having lost much of their color, the actual blossom flavor was much more pronounced – broccoli meets asparagus? If I were to serve them up for dinner, I'd probably top them with a bit of mayonnaise, sour cream or yogurt.
You can also use them raw. Add maple flowers to salads and sandwiches or use them as a lovely garnish. A quick google search will offer up recipes for pickling, pesto, infused vinegars and more.
What's the best time to harvest them? In late March in the Pacific Northwest, you'll begin to see maple blossom buds plumping up. This is a good time to keep an eye out for low-hanging branches. You should begin seeing buds transition to blossoms the first week in April. Some people enjoy eating them when they're fairly compact, or at least before they're completely opened. But I find they become sweeter and more flavorful when they unfurl to make their nectar available to pollinating insects.
If you can't find branches low enough to harvest from, just wait for a good windstorm and collect them from the ground. But don't harvest more than a couple meals worth as they won't store past a couple days.
Are they nutritious? Maple blossoms have not been extensively studied for their nutritional value, but like other edible flowers, the blooms likely contain some vitamin C, potassium, vitamin A, calcium, phosphorous and certainly fiber.
If maple blossom fritters sounds like too much work, or if you're trying to avoid deep fat fried foods, do try steaming a batch. I think you'll find them quite tasty.
Bigleaf Maple Blossom Fritters
Ingredients:

1 c flour

1 tsp baking powder

Pinch of salt

1 egg

1 cup milk or water

Enough high smoke point oil to safely fill a deep pan or a deep fat fryer. (Leave plenty of head room for expansion, blossoms are about 1" diameter and 4-6" in length.)
Method:

Sift together dry ingredients.

Separately, whisk together liquid and egg.

Combine dry and wet ingredients. Do not over stir. If needed, gradually add more liquid until you have a fairly thin batter.

Bring oil to 350-375F.

Using the stems, dip each raceme in the batter, shaking or tapping off any excess.

Gently place in oil.

Fry until golden brown. You may wish to turn them midway through cooking.

Remove from oil, place on paper towels, sprinkle salt and/or other seasoning.

Serve warm.